NS&I has won the award for 'Most Improved Service' in the 'Cash Investments' category at the Financial Adviser Service Awards, held at the Natural History Museum in London on 17 November.
The awards are run by the Financial Times and are considered the benchmark for service standards within the financial advice marketplace.
At this prestigious event it was also announced that NS&I received the biggest increase in votes from year to year.
NS&I has been consistently improving the service it provides for financial advisers and advice firms, including launching its dedicated online service in May 2019. This was designed and developed in response to feedback from advice firms and allows them to access information on their clients' NS&I holdings quickly and easily.
The online service has become a fundamental tool for advisers up and down the country and as at November 2022, more than 1,400 advice firms have now registered to use it, equating to more than 1 in 4 UK advice firms.
Financial advisers are often strong advocates of NS&I, as evidenced by the current advocacy score of 8.11 out of 10 in response to the question 'How likely are you to recommend NS&I to your clients?'.
Andrew Pike, Head of Intermediary Relationships at NS&I, said:
"Financial advisers are extremely important to NS&I and I'm thrilled that the improvements that NS&I has made to the service we provide to them have been recognised in this way.
"A huge thank you goes to my team, both past and present members, who have worked tirelessly on developing and promoting the online service since its launch in 2019. The service is free to use and easy to register for, and we encourage all advice firms to sign-up.
"I would also like to thank our Adviser Helpline and back office teams who work hard every day to give advisers the excellent service they deserve.
"We are determined to continue to improve adviser satisfaction with NS&I and we are looking at further ways in which our digital services can be enhanced to help achieve this."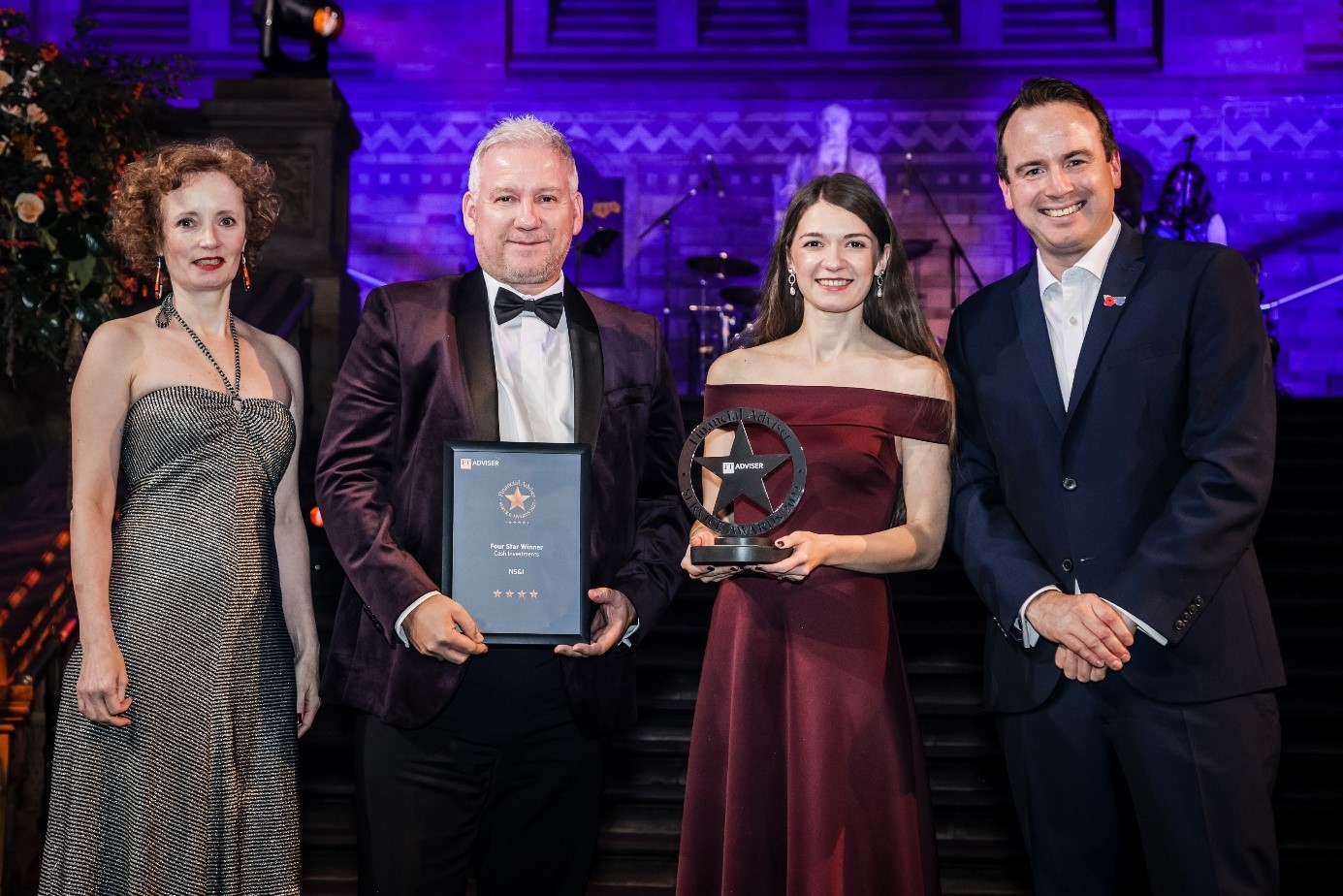 Photo above, from left to right: Melanie Tringham, Features Editor at FTAdviser; Andrew Pike, Head of Intermediary Relationships at NS&I; Madalina Oros, Senior Intermediary Marketing Manager at NS&I; and Matt Forde, Comedian.
Notes to Editors
NS&I is one of the largest savings organisations in the UK, offering a range of savings and investments to 25 million customers. All products offer 100% capital security because NS&I is backed by HM Treasury.
NS&I's dedicated online service for advice firms is available through the NS&I Adviser Centre (nsandi-adviser.com) and is designed for financial advisers, planners and paraplanners.
The online service enables advice firms to:
View a list of their clients with NS&I holdings (subject to a Letter of Authority)
Select a client and view their portfolio
View the transaction history of an account
Get a valuation of their clients fixed term accounts and see their maturity dates
View copies of communications sent to their clients from NS&I
View a client's Premium Bonds prize history
If an advice firm would like to register for this service please visit: nsandi-adviser.com/obtaining-client-information
For further information, please contact the NS&I media team.